Water Skiing Adventure Tour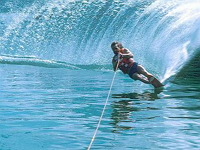 Are you ready for the exhilarating water ski adventure?
Water Ski Adventure tour is one of the best entertainments with loads of fun and thrill in Bermuda. A finest spot for this adventure is from the Dockyard, in which the tour starts from the dockyard towards the Somerset Bridge, and into Ely's harbour. Ely's harbour is a beautiful scenic location and there is lots to see including turtles, herons and Bermuda long tails flying above.
Taking off from Ely's harbour, proceed to sunken treasure shipwrecks where thousands of fishes jump high on Jet Ski arrival is truly an amazing sight. Leaving here, time to explore the amazing coastlines with sea gardens, Cambridge beaches, and gray's beach. Now finally it's time to get back to dockyard, however the visit would remain a prolonged memorable experience for everyone!