Jessie James Cruises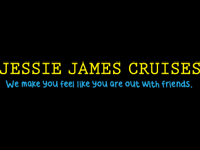 If you want to cruise and set your own time schedule for the activities that you want to do, Jessie James Cruises is the best for you!
Jessie James Cruises offers a cruise service anywhere on the island of Bermuda. If you want to do activities while cruising, you can inform their staff and they can set it up for you. A few of their available services include snorkeling, swimming, sightseeing and cocktail cruises.
The good thing about being with Jessie James Cruises is they have convenient departure times from the dockyard as well as affordable rates for their services.